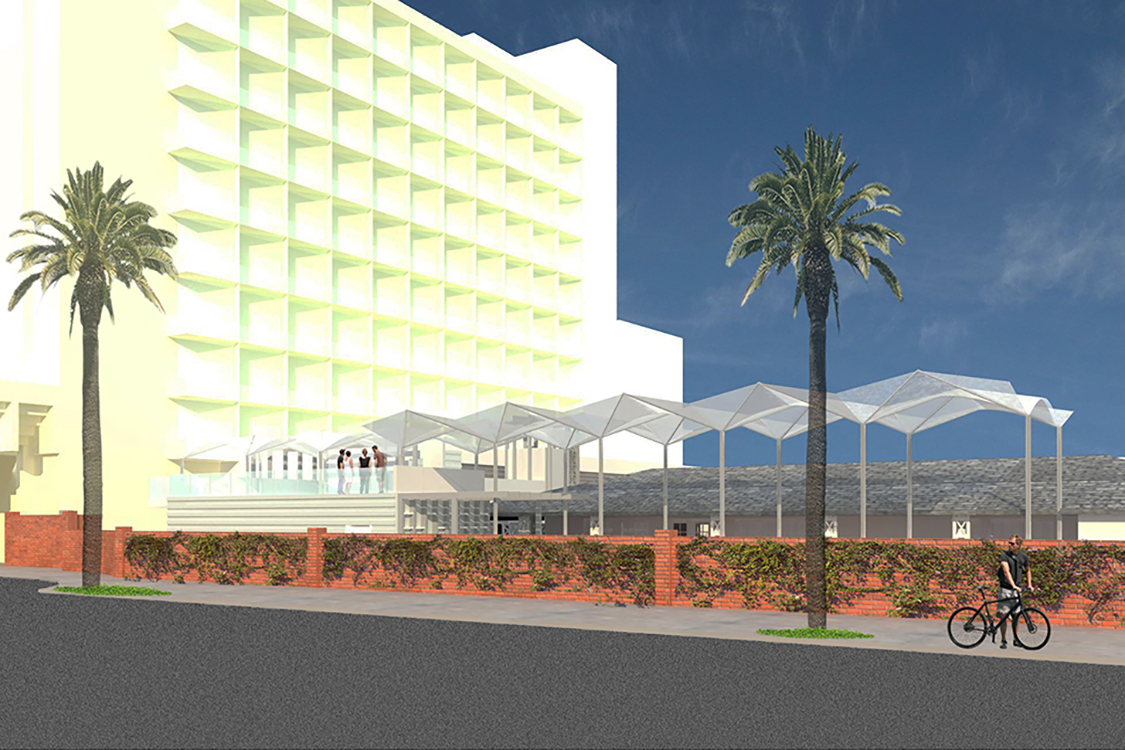 Click any photo below to view gallery.
The Bungalow at the Fairmont Hotel
HOTEL ADDITION | The Bungalow at the Fairmont Hotel, Santa Monica, CA, Current | Situated at the end of Wilshire Boulevard in Santa Monica, CA, overlooking Palisades Park, the beach and the ocean, The Bungalow at the Fairmont Hotel is a fantastically popular place for socializing. This project will provide much-needed service and support functions for the outdoor lounge. Additionally, the project will make permanent an outdoor bar, currently permitted as a temporary facility, that is assembled and taken down every day.
The entire hotel site is categorized as an historic site so there is significant scrutiny directed toward any proposed construction project. In addition to the normal planning and building department reviews, the project must obtain approvals from the Landmarks Commission and the Coastal Commission.
The new building is situated between the Bungalow (a one story slate roofed and stucco walled building with deep porches created by the broad roof eaves) and the hotel (a ten story structure). There was not enough available area to mimic the Bungalow building's low sloped roofs and deep porches (if that was desired) so with the exception of the elevator and stairway to the roof level reception terrace (a deliberate means of celebrating the path to that space) the building is designed to be part of the background. Two of the three exposed sides of the building are really armatures for supporting planting; that is the main impression of the project. Wooden clad "outriggers" that support iron lattices on the north side of the building become the supporting beams for grills that screen roof-mounted equipment from the view of the hotel rooms above.
CLICK ON ANY PHOTO TO VIEW GALLERY