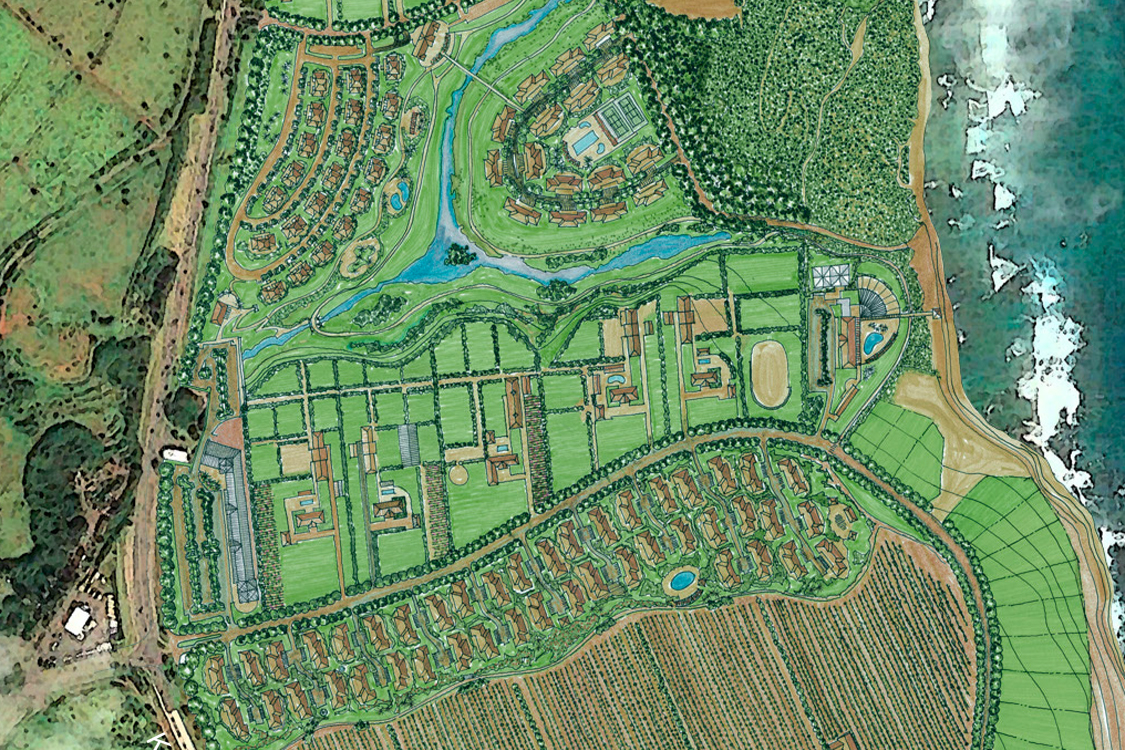 Click on any photo below to view gallery.
Kaua'i Island – U'ilani Project
HOUSING DEVELOPMENT | Kaua'i Island, Hawaii, 2016 | West Edge Architects is developing a proposed 466-acre Kaua'i Island – U'ilani project program, consistent with the newly adopted Lihu'e Community Plan. It includes the following components:
Fifteen two-acre oceanfront estates; 20 one-acre oceanfront estates; five 15-acre equestrian estates; four five-acre equestrian estates; five 35-acre agriculture estates with organic farms ; four five-acre agriculture estates with organic family farms ; 240 four-plex residences; 200 10-plex residences; a community center; an equestrian renter; a beach club; and a retail center.
The planning criteria included the following:
Limiting the roadways required to access all lots on the property to the greatest extent possible.

To that end, a single loop road serves the entire southern portion of the development, accessing all oceanfront residential estates, the large organic family farms, the Beach Club, the 15-acre Equestrian Estates and the bulk of the four-plex housing units. Existing roadways were relied upon to access the properties at the northern end of the development.

Preserving views from the adjacent Kuhio Highway across the landscape.

By limiting the development of the southern basin area to the five organic farms, the number of buildings built will be minimal and be restricted to the edge of the perimeter roadway, preserving the openness of the landscape. The multiple unit housing components of the development will be clustered, with six to ten units per acre densities, to preserve the overall openness of the landscape.

Utilize landscape, to the greatest extent possible, to unify and create continuity across the development.

Designated open space zones were extended and linked with equestrian trails and walking paths to unify the entire development. It would be possible to walk or ride along trials through the entire development from the trailhead at the north and the oceanfront on the south and to all featured areas: the Beach Club, the Community Center, the Equestrian Center, and the Retail Center, only needing to cross two vehicular roadways.

Manage storm water across the development as required for proper building construction without significant disruption to the existing topography or hydrology of the site.

Open space uses were assigned to already existing of low elevations and seasonal water courses. Development is arranged to permit natural storm water flows to continue uninterrupted, to the greatest extent possible. Surface drainage from developed areas would be properly filtered and channeled to join existing flows.
CLICK ON ANY PHOTO TO VIEW GALLERY