Los Angeles Jewish Home | Cyber Café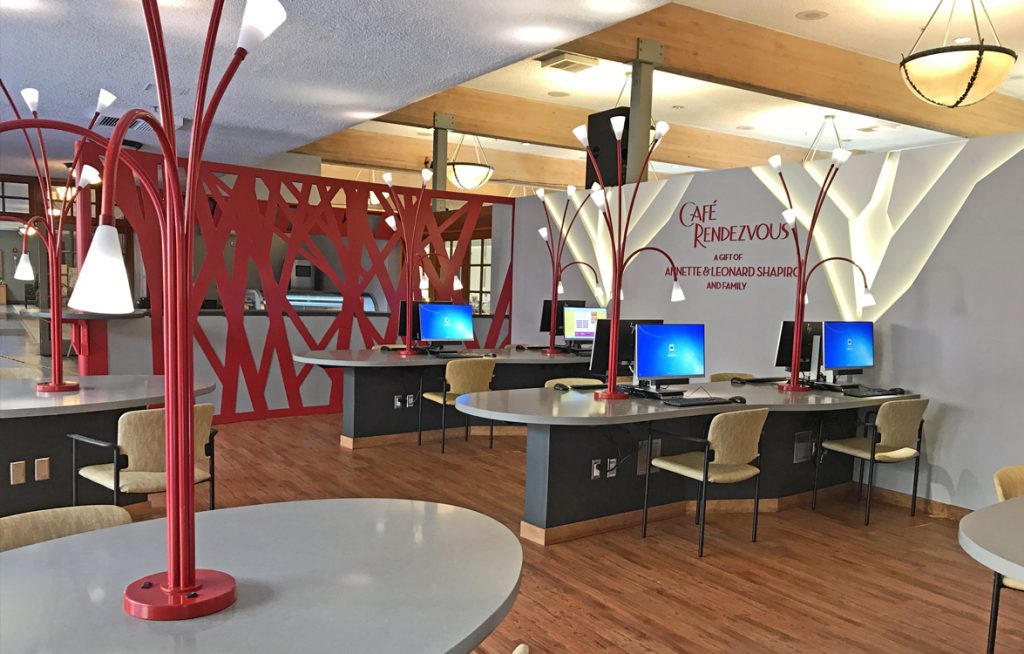 West Edge Architects designed an Internet café for use by the residents of the Los Angeles Jewish Home in Reseda, California. The space, named Café Rendezvous, is situated along the main circulation route leading through a general services building. The route includes a large dining hall, a synagogue and a formal meeting room. Immediately across the open circulation is an exterior courtyard in which we also designed a wood trellis shade structure with built-in seating.
The café includes 12 computer stations positioned on three free-form tabletops that extend from the back wall of the space. These tabletops were shaped to encourage small groups to gather around each computer screen. The tabletop configuration also causes the computer screens to be offset from one another. This provides privacy from immediate neighbors despite the open environment.  Additionally, there are two "free-floating" elliptically shaped tables that can accommodate laptops through the wireless network. At the south end of the space, two additional computer stations and a printer are located along a slightly undulating counter. The "café" aspect is addressed through the renovated and newly equipped deli service counter, known as the Nosh Box, also part of our work.
The lines of communication and the ties to family and friends over great distances are facilitated by the invisible lines of electronic connection that the computers and the Internet provide, and were given expression through the use of a branching tree metaphor throughout the space. Where the tabletops connect to the rear wall of the Café, a deep recess in the wall splays out in stages as it extends to the top of the partition. This creates abstract representations of trees in the pattern of relief across the length of the wall.  In another example, an open pattern of overlapping branches cut from a large, curved metal panel, separates the north end of the Café from the main entrance to the dining hall. The lamps mounted to the tabletops, which West Edge Architects designed to provide both task and general illumination in the space, appear to feed off the undulating centerline of the tables. Each lamp has six stems that either branch up toward the ceiling, or curve downward to light the tabletops. Finally, the shape of the shade structure in the courtyard reverses the angle of a typical four-legged trellis structure to reach up and out from the open center space.
Click any photo to launch gallery