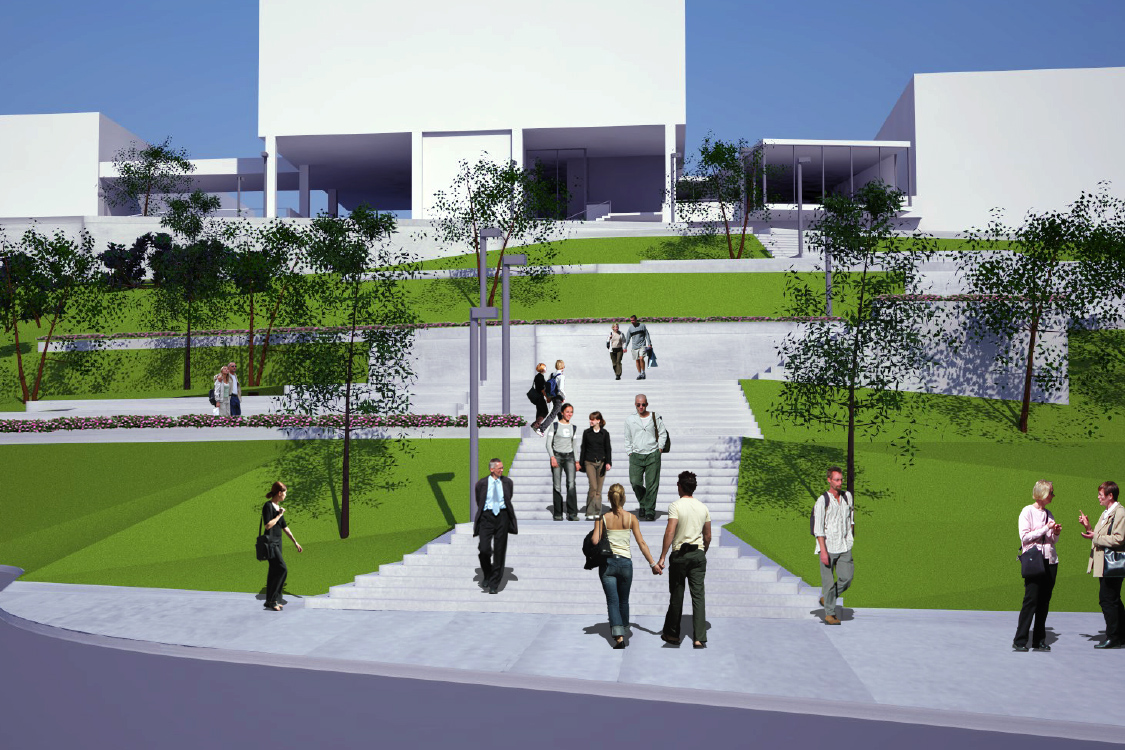 Rio Hondo College Facilities Master Plan Update 2010: Upper Terrace Walk
CAMPUS MASTER PLAN | Rio Hondo College, Whittier, CA, 2010 | The Rio Hondo College Master Plan that West Edge Architects completed for the college in 2006 was updated in 2010. Design studies were undertaken to extend the ideas and initiatives generated as part of the master plan process, and to respond to new information that came to light as a result of the initial construction projects.
The 2010 Update included: confirmation of anticipated growth of student body and resulting space needs; the best future use of space in existing buildings made available by the construction of buildings in the first phase of the master plan; concept design for the Upper Terrace Walk and West Campus Plaza, as a means of linking the Terrace Stairs to the Campus Core; Construction of East Campus Plaza; a study of campus-wide circulation systems to measure the impact of trams and walkway and signage initiatives already undertaken in the initial phases of the plan implantation; a study of potential sites for parking or parking structures to support the campus core; and potential sites for future academic buildings; and potential uses for the iconic Library Tower. These studies were presented to the Board of Trustees for their consideration and are included on this page.  The first presentation includes the following components:
A review of previously established principles and progress
Studies aimed at improving and extending improvements in Access and Orientation on the campus
Studies looking at the availability or parking at peak times and potential sites for expanding parking capacity
Studies examining the implication of established growth trends for the on campus population.
The second presentation describes the secondary effects of the on-gong construction process across campus. These include temporary relocations of instructional and administrative functions as construction projects are undertaken; and improvements to spaces made available by new spaces to accommodate growth or to facilitate modernization of facilities necessary to remain competitive and relevant.
Click above to view
Rio Hondo College
Master Plan Update 2010
Click above to view
Rio Hondo College
Secondary Effects