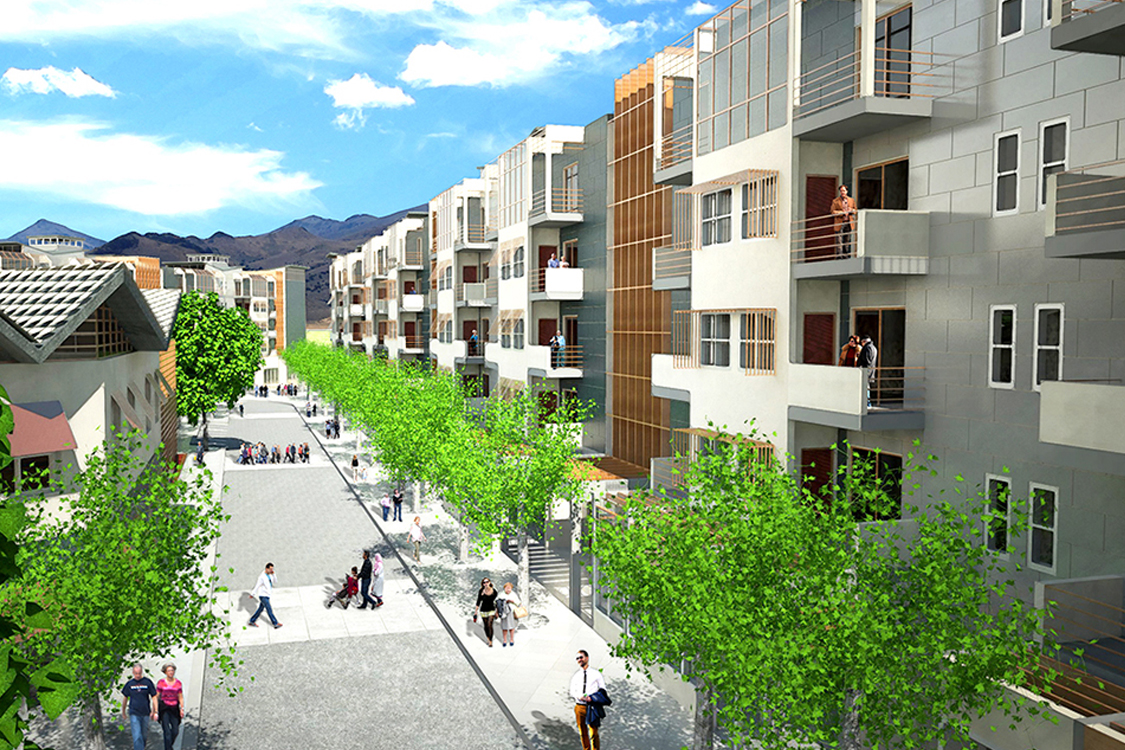 Click on any photo below to view gallery.
Simi Valley Residential Village
The organizational structure of this residential development is intended to create a sense of community. Shared amenities are organized on street fronts and form a town center that is connected to apartment building entrances. The Pedestrian circulation is accommodated by a network of covered walkways and passages, similar to a traditional village, which establishes common shared experiences for all residents in the course of their daily routines.
Lining the sidewalks along the street fronts are restaurants with outdoor dining patios, fitness and health centers, sundry shops and refreshment venues. Surrounding the town center, 450 apartment units are formed into wings, organized around community gardens within the open courts they create. Along with service access, almost all the parking for the development is below the garden level, at grade.
Layered space defined by rails, screen walls, trellises, open decks, greenhouses and porches form the exterior walls of the complex. For the apartments, these mitigate against solar heat gain by employing traditional passive solar design strategies that increase the level of shade and create an insulating zone of cooler air around the interior spaces. Similar elements create outdoor dining spaces at ground level and throughout the garden levels. These same elements, constructed at a larger scale, identify major entrances to the various sections of the apartment complex. In combination, these elements define the architectural character of the complex.
The two-story Town Center building occupies a triangular plot of land in the heart of the complex. A circular courtyard is surrounded by administrative and guest services as well as cafes and other amenities. A passageway that crosses through the building connects the east and west wings of the complex.
CLICK ON ANY PHOTO TO VIEW GALLERY