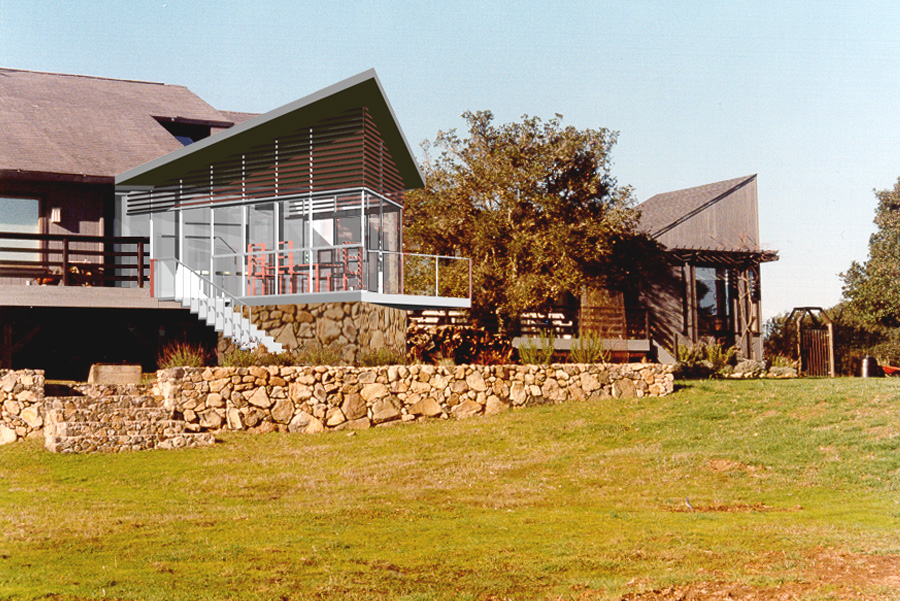 Click any photo below to view gallery.
Sonoma Residence Remodel and Addition
Sited on two acres and backing onto a national forest, the existing house already featured extraordinary views. The addition featured a splayed plan and folded roofs, expanding the extraordinary panorama and at the same time creating dynamic spaces. Dry set stone walls run across the site and are part of the interior and exterior of the house, tying them to the landscape.
The client sat on his couch in the living room, which opens onto the deck at the center of the image above, and gave the architect what he considered an impossible task: add a dining room to the view side of the house without spoiling the view he had from where he was sitting. The design strategy was to create a splayed form in plan. This solved the problem of preserving the view from the existing house and at the same time, the space of the dining room would feel projected out toward the view. The client was delighted.
CLICK ON ANY PHOTO TO VIEW GALLERY