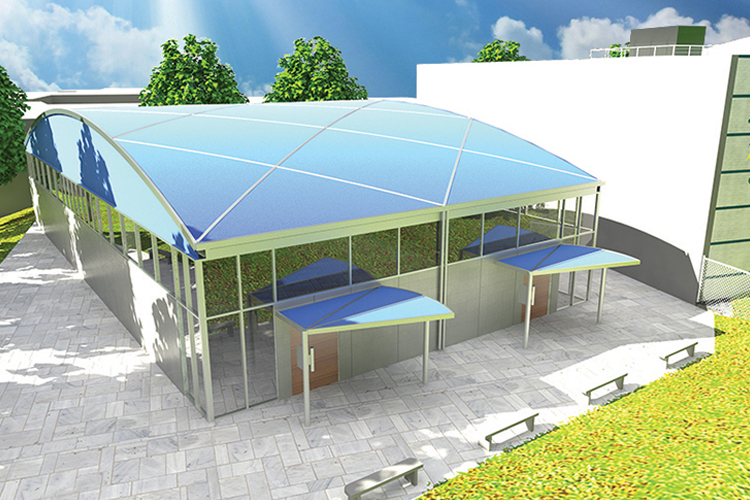 Click any photo below to view gallery.
West Los Angeles College: Dance Pavilion
CAMPUS BUILDING | West Los Angeles College, 2016 | A component of the physical education department, the 4,400 SF freestanding Dance Pavilion is used primarily for instruction and practice, but on occasion will be used for performance. The building houses the dance studio, along with storage and dressing rooms.
The design addresses the need for a large, clear-span space within the constraints of a very modest budget. The building design stems from the structural solution. Four steel-tube columns are cantilevered from below grade to support the roof framing. Extending 25 feet below grade and tied together with grade beams below the floor slab, these four columns resist the lateral forces acting on the building and support the light weight framing over which a fabric roof is stretched. The overall lightness of the building is key to the success of the solution.
The walls are a combination of an insulated rain screen system, utilizing resin treated plywood panels on the exterior, and a dual glazed storefront system. Operable window units glazed into the storefront system permit natural ventilation, which would be effective for a significant portion of the year given, the campuses coastal zone location.
The interior faces of the walls are mirrored or are equipped with ballet bars (as required). The dance studio is equipped with a sprung floor. Lighting is supported by the horizontal tie members of the roof structure, as are the fire sprinklers, acoustical panels, and air-conditioning ducts. The air-conditioning equipment is mounted on the ground at one of the narrow ends of the building.
The building is rotated on the site so as to not be parallel to the adjacent building walls or street. This strategy creates more reasonable gathering spaces, animating the activity around the pavilion.
CLICK ON ANY PHOTO TO VIEW GALLERY